Fees and Tuition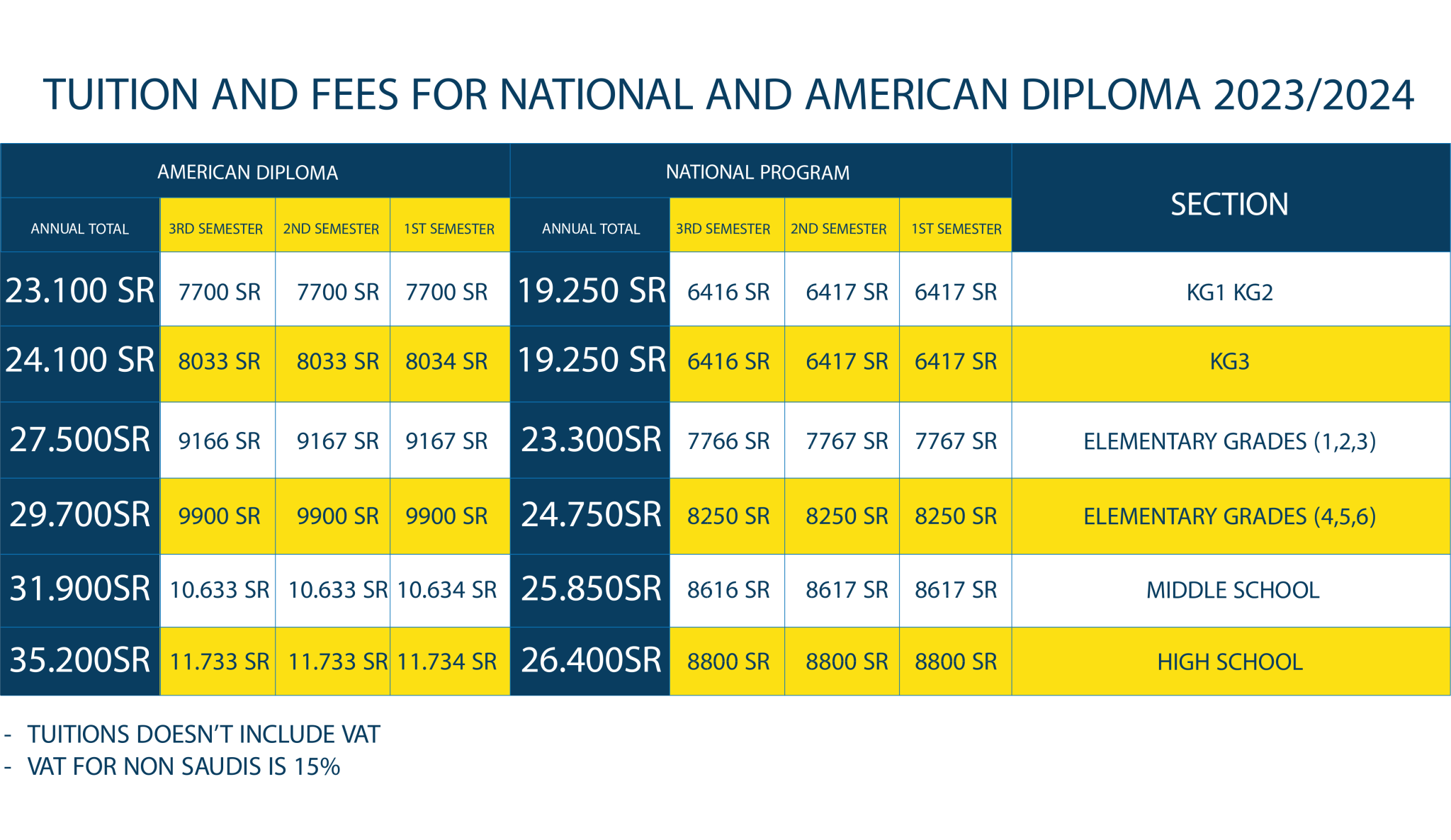 TUITION AND FEES FOR NATIONAL AND AMERICAN DIPLOMA 2024/2025


Please be informed that the new tuition and fees will be applicable starting from the upcoming academic year 2024/2025.
Discount:
When two or more brothers enroll in schools, the full fees are approved for the son (daughter) who is the highest in his educational stage, then the discount rate is presented to brothers and sisters according to the percentages set by the financial department.
Payment Process:
The student's guardian pays the tuition fees in the first week of each semester for registered student as for the new students, it is paid at the beginning of his registration, in addition to an amount of 4000 thousand riyals provided for the second semester, which can be refunded in the event of withdrawal in the second semester.
The student should be re-registered when moving from one stage to another with the stage administration.
Kindergarten, preschool, first grade students the guardian should pay the full fees.
Schools are responsible for securing government curricula, field visits, cultural, sports and social activities requirements, and health care during the school day.
Parents pay the actual cost (without any addition) for meals, field trips, and the purchase of other school supplies such as (bags, tools, etc.).
The student is considered enrolled in school for a full year if his/her guardian is not notified at least 15 days before the start of the school year. Upon withdrawal, the regulations and laws stated in the contract apply.
It is not permissible to withdraw the file of any student in the first or second semester unless full tuition is settled.
Student's file will not be handed over nor provided with educational and administrative statements unless financial obligations are settled.
It is preferable to pay the full installment for those who wish to do so.
Parents must abide to the specified dates for paying the fees, and in the event of failure to pay on time, the schools have the right to un-registering, the student's place will be given to another child, the name of the student's guardian will be registered with SIMAH, and the file will be held until the Previous financial obligations are settled.
Schools are not responsible for the loss or damage of textbooks.
Withdrawal :
Tuition and fees for the entire semester are due with the start of the first day of school, and in the event that the student withdraws, the fees will be deducted as mentioned in the financial contract between the school and the guardian.